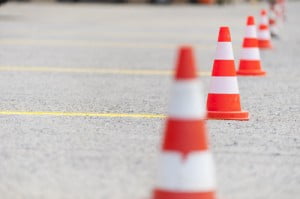 For most people, time is their most precious commodity. In fact, there's often never enough time in the day to get everything done and people face packed schedules from the time they wake up in the morning until the time they go to bed. Sometimes, however, the unexpected happens: like getting a traffic ticket.
Getting a traffic ticket means one of two things: having that black mark placed on your driving record or completing to keep your record clean. Keeping your record clean once meant having to attend walk-in traffic school: eight full hours, usually on a Saturday, watching videos and listening to an instructor. For lucky students, the instructor is charismatic and makes the afternoon more bearable. Some walk-in traffic schools try to entice drivers to their schools with promises of pizza and comedy. But, even for the promise of a couple of slices of pizza and a few laughs, drivers just arenít willing to sacrifice their days.
Fortunately, drivers have an alternative to traditional walk-in traffic school: one that will keep their driving record clean and spare them a wasted day. More and more drivers ñ hit with traffic violations ñ are turning to online traffic school or online defensive driving courses, a burgeoning industry that is poised to one day make walk-in traffic schools a thing of the past.
It's a simple process: register for online traffic school, pay the fee and get started. Many drivers can finish the course in between four and six hours, sometimes less with many schools even offering students the ability to start and stop the course at their leisure. Online traffic school offers convenience ñ something those strapped for time so desperately need.
Ellen Koka, a mother of two, simply had no time to waste in a traditional walk-in traffic school setting so she turned to an online traffic school as the only alternative. She was able to finish her course in only a few hours while her children were on a playdate. "Online, traffic school was the best way to get my traffic school requirements done," she says.
Earl Jamison also knows all too well how hectic life can be. A father of two with a full-time job, Jamison had already sat through two walk-in traffic courses when he was hit with another traffic ticket. This time, however, he was no longer willing or able to spend eight hours in a classroom. So, he turned to the internet. ìThe fact that I could take traffic school whenever I wanted was just too convenient to pass up,î he says.
ìThe advantages are obvious: convenient, inexpensive and being able to log in and out whenever I had the time was awesome,î Jamison continues, ìI would even go as far as to say that I learned much more from this than I ever learned in any traffic school classroom course I'd taken in the past.î
Jamison, who vows heíll turn to online traffic school in the future, isnít the only one who's enjoyed success with online traffic school. Cal Spinney turned to online traffic school when he was hit with a traffic violation. ìFor my personal style of learning and working, the online flexibility and freedom trumps any advantages that might be offered in a rigid and structured classroom environment,î he says.
Online traffic school also tends to offer updated material compared to that offered at traditional walk-in traffic schools. For example, many schools such as TicketRelief.com updates its material annually, to ensure clarity and effectiveness.
Mike P. Welch understands the importance of updated material. He attended traditional walk-in traffic school, only to find that much of the material was outdated.
ìThe instructor had us watch a video that was from the 1970's and a big segment was on call boxes, which I felt was irrelevant, considering the majority of the population now has cell phones,î Welch says.
Welch, too, vows to use online traffic school should the need arise.
It's plain to see that online traffic schools will continue to grow in future years to come. Especially as our lives are becoming increasingly busier and the internet is now more and more common place in nearly every household across the globe.