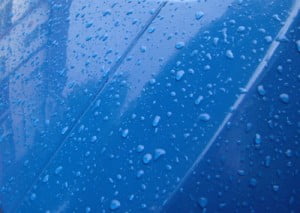 Here's news you may want to brush up on: Using touch-up paint on your car can be an inexpensive way to protect its value. Some scratches can remove all the paint down to the metal and the area can begin to rust, causing permanent damage.
There are several choices for applying touch-up paint. Spray cans can be used for large areas and with patience and practice you can achieve excellent results. For smaller chips and scratches, you can brush the paint or use a paint pen. Often, a paint pen will be easier to apply to very small chips, as you can apply the paint more precisely.
Women find using touch-up paint is easy because they have had so much practice applying nail polish. In fact, according to paintscratch.com, some women have even painted their nails with automotive touch-up paint to match their vehicles.
Where to find Touch-Up Paint
The easiest place to find touch- up paint is on the Web. First you have to know your color code. There are sites where the paint colors are broken down by year, make and model, so finding your color code is easy. With the correct paint and good instructions, applying touch-up paint should be no more difficult than coloring your nails.
With the right paint and good instructions, applying touch-up paint to your car can be as easy as coloring your nails.
Touch Up Paint Tips, Suggestions and Tricks
Please read through the following list of touch up paint tips for best car scratch repair results.
The pints, quarts and gallons of basecoat, midcoat, clear and primer are ready to spray and do not require thinning.
If you get paint on your skin, remove with paint thinner and wash thoroughly with soap and water.
Do not try to use the paint pen on areas larger than a pencil eraser. Larger areas must be sprayed.
Paint can easily leak out of the paint pen if you do not use it correctly!
Do not try to brush areas larger than a dime. Larger areas must be sprayed.
Use an approved automotive paint respirator and WEAR safety goggles and gloves when handling automotive paint to protect your eyes and skin!! Please read the information below for best results.
When spraying, always test for paint compatibility. Paint an inconspicuous part of the vehicle, let dry and see if there is any reaction. 
Do not spray our paint over enamel paint that is less than two years old. 
Do not spray primer, paint or clearcoat in direct sunlight!
First time? Did you know you can completely remove any new paint with automotive lacquer thinner and start over without damaging the original finish?
Make sure you use SEM Adhesion Promoter if you are spraying a non-metal surface. Failure to do so will result in the paint peeling off within a few months! This goes under the primer, basecoat and clearcoat.