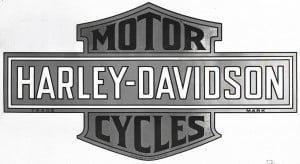 There are several Harley-Davidson accessories you can buy for your motorcycle. However, you don't need all of them to get your desired image. Here are 10 Harley-Davidson accessories you can consider buying. (Again, you don't have to buy all these 10, you only have to select some.)
10. Fender trim
Fender Trim
: If you want to highlight your front fender would to become more attractive upon first look, you simply add a sweeping dash of this chrome-plated trim and you will surely see the difference.
9. Instrument trim
Instrument Trim:
This is a chrome-plated trim that is installed on your tachometer and speedometer gauges (selected models). This will instantly give your Harley a stunning look.
8. Exhaust system
Exhaust systems:
To a super bike, an exhaust system is a great addition to its overall sporty image. To a Harley-Davidson motorcycle, an exhaust system would highlight the very part that gives off the unique sound that made every Harley unique and popular. Sporty look is also an assurance on every exhaust system installed.
7. Saddlebag
Saddlebags:
Whether it is a color-matched bag or a leather saddlebag, once installed, it will sure give added toughness and style on your Harley-Davidson motorcycle. There are different shapes, sizes, and material made for this type of accessory. All you have to do is to choose which one is for your motorcycle.
6. Sissy Bar Bag
Sissy Bar Bag:
Installed at the back seat of the motorcycle, the sissy bar bag will provide an extra storage that is easy to access.
5. Backrest pad
Backrest pad:
Whether you travel alone or with a companion, having a backrest pad will certainly help your posture. The backrest pad is not only functional, it is also a good cosmetic that adds to the image of the Harley-Davidson.
4. Windshield and windshield trim
Windshield:
Made from a hard-coated polycarbonate, this accessory that can resist scratching is a great addition to your Harley-Davidson. The trim on the other hand accentuates the windshield for added style.
3. Motorcycle Cover
Motorcycle Cover:
Especially made for a true-blooded Harley-Davidson motorcycle, this will provide protection every time you park it at your garage or somewhere else.
2. Seats
Whether you go solo or with someone at your back, a good seat will let you enjoy the whole ride. Seats from different manufacturers are made from fine materials with designs that go with the brand.
1. Rider's essential kit
If you want to buy a whole set of Harley-Davidson that would fit on the particular model you own, a kit would be a great choice. It includes accessories such as belt buckle, windshield, side plates, sissy bar, backrest pad, storage cover, seat, and more depending on the model you have.