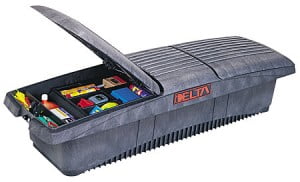 Truck tool boxes are great for carrying tools for work. They are also beneficial for carrying sports or fishing equipment. Pick up trucks have limited space in the cab for hauling tools and other items. Tool boxes allow items to be carried safely in the bed. There are a variety of different styles made for every type of truck.
Truck Tool Box Mounting
Top mount truck tool boxes are mounted in the bed behind the cab of the truck. They may have single or dual lids; one compartment or several smaller compartments are used. The style you choose depends on what you will be carrying in the box. For several smaller items, you may want something with multiple compartments. If you carry larger tools, you will probably want one large compartment.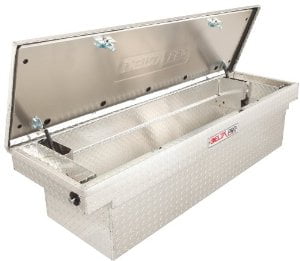 Side mount truck tool boxes mount on the side rail of the bed. Most of the box sits inside the bed. These come in a variety of sizes to fit every size truck, from a compact to a full size bed. The box opens from the top. Look for a model that locks into the bed to prevent theft. The lid should also have a lock. These features are good for any type of box.
The crossover truck tool box is the most popular type of tool box for a pick up truck. These fit behind the cab of any size truck. A variety of models and styles of box are available to fit every need. Most of these tool boxes can be bolted to the bed of the truck to discourage theft. Most major manufacturers make crossover boxes.
Materials Used in Truck Tool Boxes
Plastic tool boxes are the least expensive type. These are cheaper than other materials and not as durable. They are a good basic box, if cost is an issue. Plastic is great for recreational use, but may not stand up to heavy duty professional use.
Aluminium is another common material used in tool boxes for pick up trucks. It is light weight, yet more durable than plastic. The cost is slightly higher, but the box will last much longer. The finish is durable and easy to clean. These come in either aluminium color or black.
Steel is the most durable and strongest of all materials. Steel boxes are great for professional use and will stand up to regular, heavy use. They are also the most expensive type of all boxes. Look for powder coated steel, which increases the durability of the finish. This coating allows the box to stand up to the weather.
Manufacturers of Truck Tool Boxes
Delta tool boxes
are one of the most preferred brands by professionals and recreational truck owners. A variety of styles are available in both steel and plastic. The plastic models are good quality, but not as durable as the metal. These are good for carrying fishing equipment, camping gear or any other recreational equipment.
The Delta champion series is a good collection of crossover tool boxes. A variety of sizes and styles are made to fit full size, mid size and compact beds. These boxes have a rigid insulated lid, with three layer laminate. This design increases durability and security. A lock system helps prevent theft. Weather stripping on the lid helps seal out water.
The pro series delta tool box is made of steel and aluminium. The crossover has a double jaw latching system and reinforced front rail to help prevent theft. There are storage areas for small tools, or other small items. This model is the sturdiest of all tool boxes made by delta.