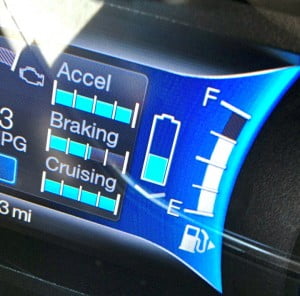 As gas prices continue to rise to unprecedented heights with future increases on the horizon more and more people are considering purchasing a gas electric hybrid vehicle. It is important to understand what a hybrid car is, what types are available, and the benefits of purchasing a hybrid vehicle.
A hybrid car is a vehicle that uses a combination of at least two different fuel sources for its propulsion. Although many combinations are possible, generally when people are talking about hybrid cars, they are referring to cars with a combination of a gasoline internal combustion engine, an electric motor, and a battery that powers the electric motor and stores energy for future use. Hybrid cars may also be called gas-electric hybrids.
Some examples of current gas electric hybrid cars include the Toyota Prius, Honda Civic Hybrid (HCH), the Ford Escape Hybrid, the Honda Accord Hybrid, and the Honda Insight.
Due to their special use of technology, gas electric hybrid cars receive much higher gas mileage than the average U.S. vehicle. In fact, gas electric hybrid cars hold the top spots for fuel economy in their respective categories: two-seaters, compact cars and mid size cars. The clean burning hybrids also receive a one-time deduction for tax purposes in the year of their purchase, as part of the Federal Government's clean air initiative. Hybrids will save you money in gas, but this should be set against what they may cost you in other areas. Hybrid cars are as much as $2,000 to $5,000 more than the standard version of the same vehicle. They also contain parts that might be more costly to repair or replace due to specialized mechanics. The more complex powertrain of the gas electric hybrid car also means that you will require a more specialized mechanic when it comes time for repairs.
Gas electric hybrid cars also typically have less power that the non-hybrid version. The emphasis has not been put on speed, and the acceleration capabilities are often not up to par with comparable vehicles.
It is important to remember that hybrid cars are a new technology. As with most technologies, they will inevitably improve over time, so it might be best to hold off on purchasing that new gas electric hybrid for a little while, until their engineering catches up to their economy.
A very interesting fact is that the first patent given for a hybrid vehicle was in 1905 by Henri Pieper. Images from Wikipedia article on hybrids.