Driverless cars study: 1 in 5 would let computers do the driving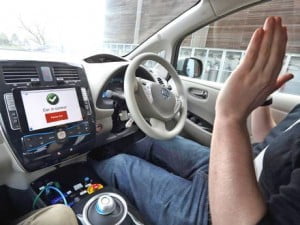 Nov. 4, 2013 (Foster City, CA) – A new CarInsurance.com survey finds that one in five Americans would never take the wheel again if a self-driving, or autonomous, car were available.
While 20 percent of the 2,000 licensed drivers surveyed said they would gladly turn over the keys, interest in driverless cars soared when the prospect of dramatically reduced insurance costs was introduced. More than a third of those surveyed said an 80 percent discount on car insurance rates would make purchase of an autonomous vehicle "very likely," and 90 percent of drivers said they would at least consider the idea.
Cars that park themselves, navigate stop-and-go-traffic or avert an impending collision are already on U.S. roads today. Nissan has promised to deliver a fully autonomous vehicle — one that allows a computer to assume control under the right conditions — to showrooms by 2020. A fully automated vehicle that doesn't need a human operator could someday follow.
"Our survey shows cheaper insurance will greatly influence consumer acceptance," said CarInsurance.com managing editor Des Toups. "Some of the liability of operating a car will doubtless be assumed by the manufacturer," Toups said. "But a lot of the decrease in rates could come simply because there would be many fewer accidents."
Trust will be a big hurdle, the survey results show:
64 percent said computers were not capable of the same quality of decision-making that human drivers exhibit.
75 percent of respondents said they can drive a car better than a computer could.
75 percent said they would not trust a driverless car to take their children to school.
The survey also asked consumers which companies they would trust most to deliver driverless-car technology.
Communications company such as Sprint or Verizon: 1 percent
Consumer products company such as Apple or Samsung: 12 percent
Software company such as Google or Microsoft: 15 percent
Start-up automaker such as Tesla: 18 percent
Traditional automaker such as Honda, Ford or Toyota: 54 percent
Asked what they would do with their additional free time, drivers responded:
Text/talk with friends: 26 percent
Other: 21 percent
Read: 21 percent
Sleep: 10 percent
Watch movies: 8 percent
Play games: 7 percent
Work: 7 percent
The "Other" category included two significant write-ins. More than 10 percent of respondents wrote in some variation of "enjoy the scenery" and 9 percent wrote in "watch the road," "hold on for dear life" or something similar.
See the full article at http://www.carinsurance.com/Articles/autonomous-cars-ready.aspx.
Methodology
CarInsurance.com commissioned an online-panel survey of 2,000 licensed drivers. The survey was fielded in September 2013.
About CarInsurance.com
CarInsurance.com has been offering drivers expert advice about car insurance and how to shop for it since 2003. Using a combination of industry expertise and information drawn from thousands of online quotes delivered without obligation each month, CarInsurance.com is a source for unbiased answers and data about what consumers should expect from an insurance policy. The site lets consumers compare multiple car insurance quotes online and purchase a policy online in minutes. CarInsurance.com is owned and operated by QuinStreet, Inc. (NASDAQ: QNST), one of the largest Internet marketing and media companies in the world. QuinStreet is committed to providing consumers and businesses with the information they need to research, find and select the products, services and brands that best meet their needs. The company is a leader in visitor-friendly marketing practices. For more information, please visit QuinStreet.com.