Diesel Exhaust Systems For Performance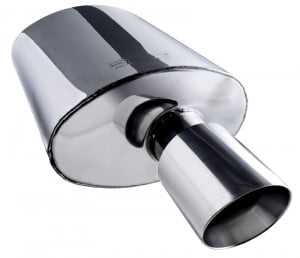 If you are looking for a exhaust system to enhance your diesel performance, the choice can be a tough one. Diesel gets more and more popular all the time and because of this there are many viable options on the market. In addition to diesel exhaust, there are also many chips and tuners that will help enhance your performance, which makes the choice of an exhaust even more overwhelming. Luckily, there are a few brands that are well known for delivering the best in diesel exhaust for performance each and every time. If you are looking to improve your Chevy Duramax, Dodge Cummins, or Ford Powerstroke engine you can definitely maximize your diesel performance with the right exhaust.
Magnaflow Diesel Exhaust Systems

Magnaflow
is definitely a brand that is well recognized and respected in the diesel exhaust market. Magnaflow
has really embraced diesel performance and they have a tried and true formula that matches the right amount of air with the measured amount of fuel for the most power. A Magnaflow
exhaust system for diesel will help your diesel engine maintain a normal temperature to lengthen the life of your engine. With a Magnaflow
diesel exhaust system, you have the benefit of years of experience in diesel performance on your side, and you know that the exhaust system will compliment all Dodge Cummins engines.
Magnaflow
is one of the latest contributors to the four-inch performance diesel exhaust that has become standard. Magnaflow
has also introduced a stainless steel mandrel bent system that carries a lifetime warranty, polished muffler and five-inch tip. The Magnaflow
is definitely one that has made its mark and is a great choice for your vehicle.
MBRP Diesel Exhaust Systems

MBRP
is also another great diesel performance company that can offer you the best in diesel exhaust systems. The MBRP
Dodge Cummins exhaust is considered a must have if you are working with a Dodge Ram. The MBRP
promises maximum gains with a direct bold on application that comes with a four-inch turbo down pipe. The MBRP
will simply add horsepower, torque, improved fuel economy, and will lower exhaust gas temperatures. This is a quality buy for anyone looking to enhance diesel performance.
Bully Dog Diesel Exhaust Systems

Bully Dog
is another outstanding diesel exhaust company that will provide custom-made diesel performance systems for your Ford, Doge, or Chevrolet truck. Bully Dog
will promise immediate improvements in horsepower, throttle response, and pulling torque, not to mention the exhaust system looks awesome. Bully Dog
exhaust systems also lower gas temperatures by more than 200 degrees, which is ideal when you are pulling heavy loads. The Bully Dog
performance exhaust packages will also increase gas mileage. A good exhaust system from a great company.
Banks Diesel Exhaust Systems

If you are looking for a diesel performance exhaust system from a company that knows diesel, Banks
is an outstanding company. They've been around since 1897 improving the use of diesel for performance big and small. Banks
is a company constantly implementing innovative techniques with a quality and consistency not often found.
As you can see, there are a lot of options for your diesel exhaust, depending on the type of truck you have, and what you want to see in the way of performance. These are all top-notch brands that you'll likely be happy with.