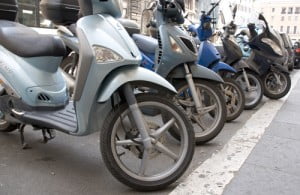 Motor scooters are vehicles with small wheels and a low-powered gasoline engine geared to the rear wheel. The first patents for "foot powered" scooters date back to 1921. Up to that time there were no motors attached to the scooter. They were propelled by "foot power."
The old-fashioned foot-powered push scooter was updated to a Razor Motor Scooter
under the direction of Gino Tsai, whose father was a mechanical engineer for the J. D. Corporation in Shanghai, Taiwan. His motor scooter took about 5 years to design.
Gino Tsai claims that the reason he invented the Razor Motor Scooter

was due to the fact that his father had to walk for miles every day around the huge bicycle factory that he worked for because of his short legs. To solve this problem he updated the old-fashioned push scooter into what we now know as the modern Razor motor scooter.
When Gino finished the development of his motor scooter he began to market it to the public. It quickly became a huge success with customers waiting as long as six months for their orders.
Why was the Razor motor scooter so popular? The Razor scooter was made from lightweight airplane grade aluminum which can support over 1000 pounds without bending. It is foldable, which means it can be stored in very small places. It has small polyurethane wheels and a low-powered engine. Braking is activated by stepping down on the rear fender.
Today there are many different brands and models of motor scooters. We have electric scooters and gas powered motor scooters. They are very versatile and functional, serving many different purposes. They are patterned after motorcycles, but have smaller wheels, lower-powered engines and can be "stepped through," unlike the motorcycle.
The most commonly seen style of scooter is the "folding," or "foldable," scooter. These are two-wheeled models that are typically used for traveling short distances around the neighborhood. Braking occurs when the back fender is stepped on, putting pressure on the back wheel and stopping its movement. This type of motor scooter is made for kids or adults and can also be used to perform tricks on. It is very compact in size and can be folded for storage in small places.
A unique feature of freestyle folding motor scooters is the "kicktail," a portion of the foot deck that extends over the back wheel. This is what provides the leverage for performing tricks. Motor scooters with "kicktails" are called freestyle scooters and usually have hand brakes due to the fact that the back fender allows for the performance of tricks instead of braking.
Electric scooters are generally bigger and heavier. Because of the extra weight they consume more power and can only go shorter distances when compared with the folding scooters. After about 10 or 15 miles it may be necessary to recharge the battery.
These electric, or battery-powered, motor scooters are often used to travel short distances around the neighborhood or perhaps on a school campus or other confined environment. They are particularly popular among the elderly, handicapped and disabled. Instead of being confined at home these elderly or handicapped people can now have some of their former independence returned to them. Motor scooters of this type are usually called mobility scooters.
Gas powered motorized scooters are usually more powerful and can attain higher speeds than the folding scooters or electric scooters. They can also travel longer distances when a larger fuel tank is included. Gas scooters may not be permitted in some areas so it is wise to check out the laws and regulations in your area before purchasing a motor scooter.