Ford EcoBoost V6 Engine Powers Colin Braun, Michael Shank Racing to New Speed Records at Daytona
[weaver_youtube http://youtu.be/wgKsTuiudyU]
Ford's technologically advanced 3.5-liter V6 EcoBoost® race engine helps set three new speed records at Daytona International Speedway
Colin Braun drives to new 222.971 mph single lap mark on Daytona tri-oval, breaking 26-year-old record held by Bill Elliott and his Ford Thunderbird
Michael Shank Racing also sets new standing start 10-mile and standing start 10-kilometer records
DAYTONA BEACH, Fla., Oct. 9, 2013 – After 26 years, there's a new King of Speed at Daytona International Speedway.
Colin Braun drove a Riley Technologies Daytona Prototype race car, powered by the new 3.5-liter, V-6 Ford EcoBoost race engine, to a new Daytona single lap speed record of 222.971 mph during a special record run attempt today, topping the 26-year-old speed record of 210.364 mph set by Bill Elliott in a Ford Thunderbird during qualifying for the 1987 Daytona 500.
Braun and the Michael Shank Racing team also set new world speed records for 10 miles from a standing start (210.018 mph average), and 10 kilometers from a standing start (202.438 mph average). All times from today's session are subject to Federation Internationale de l'Automobile (FIA) homologation.
Braun, at 25 years of age, wasn't even born when Elliott set the previous speed record. But he knows the significance of what was accomplished during today's speed trials.
"It was a challenging day," said Braun afterward. "There was a lot of work put in by a lot of people to accomplish these records. The power in the new EcoBoost engine was incredible, and it was amazing how fast it came up to speed on the runs.
"Our first run this morning was 209 mph, and it was an edgy drive at that speed. I can only imagine how edgy it was for Bill Elliott doing those speeds in his Thunderbird stock car. But our crew kept working and adjusting on it, and it was a great feeling coming down pit road after the record runs and seeing how happy everyone was."
The new Ford EcoBoost engine was prepared for the record run by Ford Racing engine partner Roush Yates Engines, and Continental Tires did a special tire for the run that was lighter and had less rolling resistance than the standard race tire, along with a harder compound than the tire used for a typical road course race.
Both the new car and new twin-turbo engine will compete in the 2014 TUDOR United SportsCar Championship that kicks off with the Rolex 24 at Daytona in January.
"It's a very proud day for all of us at Ford," said Allison. "To take a Ford EcoBoost race engine that is basically production technology, and to beat speed records that have been on the books for decades really says something for our new engine and the program we launched last week.
"It's a great way to kick off a new era of EcoBoost and sports car racing for Ford in the 2014 United SportsCar Championship, and we couldn't have done it without Shank and his team, and the team at Roush Yates."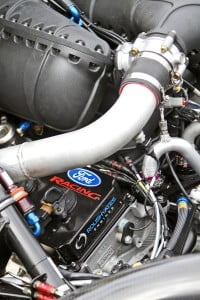 "We've been working on this for probably nine or 10 months," said team owner Michael Shank. "We did a first shakedown of the car and engine last January and we saw the potential even then of what it may do. For someone like me, to come from where I started in racing to be part of this today at Daytona, is just so cool.
"We're so excited about the Ford EcoBoost engine. It's relevant, production technology from Ford coming into a race program, and we need more of that in racing."
"This is an engine project we started probably two years ago," said John Maddox, road racing program manager, Roush Yates Engines. "There has been a lot of hard work by a lot of people to get it to where it is today, but this EcoBoost engine is relevant, state-of-the-art production technology in racing, and it brings with it power and high efficiency in the same package.
"When we broke the track speed record today with it, well, that was big. But to come back and set two world speed records that have been around since 1979 … well, that's something you can tell the grandkids some day."
Preparation for the 2014 USCC season began almost immediately after today's record run. After switching the car over from an oval configuration, the MSR team took to the Daytona road course for the first test of the new car and EcoBoost engine on the track where it will debut in January.
---
About Ford Motor Company
Ford Motor Company, a global automotive industry leader based in Dearborn, Mich., manufactures or distributes automobiles across six continents. With about 177,000 employees and 65 plants worldwide, the company's automotive brands include Ford and Lincoln. The company provides financial services through Ford Motor Credit Company. For more information regarding Ford and its products worldwide, please visit http://corporate.ford.com.
Contacts:
Kevin Kennedy
Ford Racing 
Communications
313.610.6277
kkennedy@pcgcampbell.com
Jayson Demchak
Ford Performance Communications
313.919.0729
jdemcha1@ford.com
Paul Seredynski
Ford Global Powertrain Technology Communications
313.815.1494
pseredyn@ford.com